Reflecting back on my photography over the past year is typically a fun and beneficial experience for me as a landscape and nature photographer. What did I do, what didn't I do, what could I have done better, and all of those types of things seem to come up. Choosing my 10 best landscape and nature photos of 2017 is a task that I enjoy yet don't at the same time. It's fun to relive some of those amazing places I've managed to visit and relive those moments for a brief time.
I do this as a reflection for myself first off, but also because I wanted to contribute to an amazing project by Jim Goldstein, which is now in its 11th year and going strong. Be sure to head on over there after the first part of the new year to check out all of the amazing photographers who participate. Thank you Jim!
Be sure to read on past the images about a recap of the year if you'd like, but I know most people are here for the photos. Without further ado, here are my 10 best landscape and nature photos of 2017.
1. Solitude – Luxury Panoramic Photography
Winter in Bryce Canyon National Park. It really is hard to beat. I wasn't fortunate to have amazing clouds during my visit, but nevertheless, it was a landscape photography trip full of awe-inspiring views.
2. Among Giants – Nature Photography
The Redwoods. I could probably end my description right there and everyone would understand just how amazing this area is. While it's an unreal experience wandering through a foggy forest with towering giant trees, it can be somewhat challenging to photograph and truly express the feeling you have here. I still have loads of images to go through, but this one is one of my favorites of the trip.
3. Change – Utah Luxury Nature Photography
More and more I'm looking for the smaller scenes. It seems to be a trend over the past couple years actually and I honestly don't mind it. I found this particular scene on a quick Fall trip up Ogden Canyon shortly after moving to the Northern part of Utah. I haven't spent much time here over the years, but I feel like that it going to change.
4. Forgotten Yesterdays – Nature Photography
This was the first year I've seen wildflowers bloom like this while on my annual fishing trip to the Henry's Fork River. I've been traveling to this area for the past 20 years roughly and never have I seen these out in such force. So, on a slow afternoon from fishing, I pulled out the new Sony macro lens and went to town.
5. Once Upon a Time – Luxury Landscape Photography
The Redwoods. Again, I probably don't need to say much. I found this scene while walking through Stout Grove on my last day in the area. There are just so many things to shoot for a landscape and nature photographer there. It makes it hard, yet exciting at the same time.
6. Winterfresh – Winter Landscape Photography
During Winter, I don't get out whole lot. It seems weird since I live in a state known for Winter activities, but it's always been a struggle. This past Winter I told myself I needed to add some Wintery images to my archive and made a short trip to one of the local canyons outside of Salt Lake City. I had this image in mind before heading up here and while the snow wasn't pristine and perfect, I'm still pretty happy to come home with this Winter landscape photograph.
7. Winding Paths – Aerial Landscape Photography
Going along with the image above, I also brought the DJI Phantom 4 Pro Plus with me in hopes of getting a semi-decent shot of the S-curve in Winter. I'd say it turned out ok, especially considering the amount of wind I was dealing with in the canyon.
8. Stargazing – National Park Landscape Photography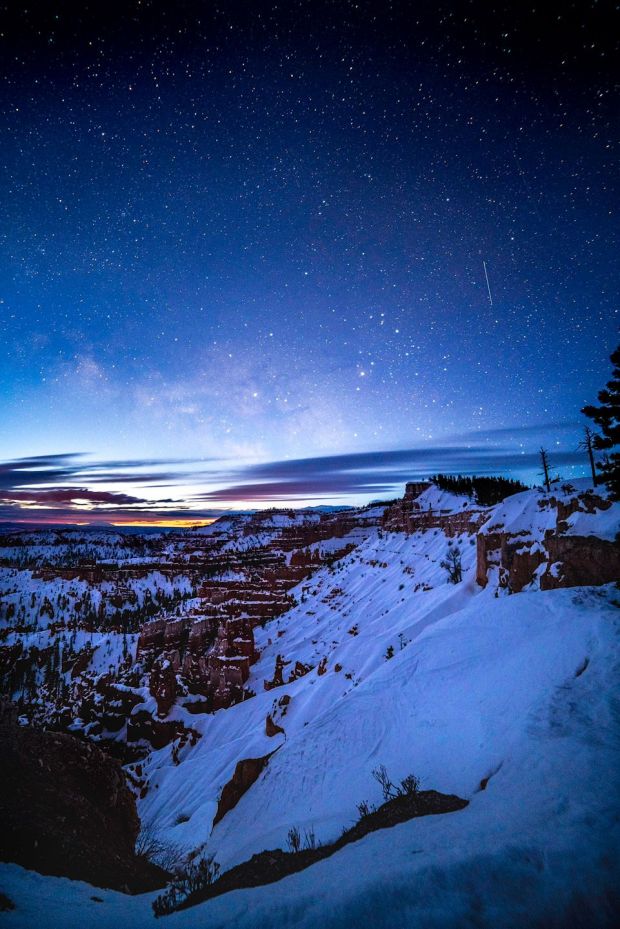 This image isn't the most amazing, but it is one of my favorites due to the fact that it was the first time I've tried astrophotography. I made a few images of the stars and the first showing of the milky way in Bryce Canyon and it was a surreal experience to see. I can see how people get addicted to shooting night sky images now.
9. A Touch of Winter – Utah Fall Color Nature Photography
I recently moved to the Northern parts of Utah and wanted to get out during Fall colors to see what there was to offer. My luck had it that a small snowstorm blew through the mountains and dusted the trees ever so slightly. It's always a great nature photography day when you combine snow with Fall colors on the leaves. This also trends more towards the more detailed views of nature that I'm becoming more and more fond of lately.
10. Stand Tall – Utah National Park Photography
Once again, Bryce Canyon National Park. It's really hard to not just stand there in awe at the scenes in front of you. Waking up early to catch the first light over the park was an experience I feel everyone should have at some point.
Reflection
Overall, 2017 was a slower year for me and my landscape photography. I was fortunate to work with new and old clients throughout the state and country and many of my photographs are now gracing the walls in a variety of homes and businesses. That has to be one of the coolest feelings knowing that.
Trending again this year, I took fewer images and didn't travel as much as I would have liked. I was fortunate to visit a few locations I had not been to before and was amazed. Return trips definitely need to be planned to these places. Along with those new locations, I visited a few locations I had photographed in the past and came away with some keeper images.
This year has been somewhat of a struggle creatively for me though. It may be a common occurrence with those involved in any sort of creative art, but it has been frustrating to say the least. Hopefully, my new venture into large format film photography in 2018 will help revive my creative outlook.
If you're interested in checking out any of my previous years posts, you can find take a look at the 2016 best landscape and scenic photography photos, 2015 best landscape photography photos, 2014 10 best landscape and scenic photography photos, 2013 10 best landscape photos, or the 2012 10 best landscape and nature photos.
I hope you enjoyed the recap of this year and my 10 best landscape and nature photos of 2017. Feel free to leave me any comments, ask any questions, order some prints, or send over any other feedback you may have. I hope this year has been great for everyone else as well. Here's looking forward to a great 2018!