This slideshow requires JavaScript.
Once again a year is coming to an end. That brings with it a natural time for reflection on the events that spanned the past year. I like to spend some time and take a look back on everything that has happened in this photographic journey of mine. Choosing my 10 best landscape and scenic photos of 2015 is one of those tasks that I enjoy yet don't at the same time. It's fun to look back at the amazing places I managed to see and also to see how my photography has improved, or worse, not improved. There are always some personal favorites of mine, but then just choosing those wouldn't do the rest justice. I still have loads of unprocessed images waiting for me on my hard drive as well, so who knows how many keepers are hiding in there. All of this stems from wanting to contribute to a the great project by Jim Goldstein, now in its 9th year, that allows photographers to showcase our images to a wider audience. Thank you Jim!
Looking back through 2015 I've noticed a trend photographically. I took far fewer images this year than any year previously. I'm still not sure if that's a good or bad thing. I managed a bit of traveling to some new and old places which resulted in some great new images. There are still many many places on my bucket list to experience and hopefully this next year will include a few of those. All-in-all, I feel I'm slowing down a bit and thinking more about my photography. I don't think that that is a bad thing to do in the long run.
If you're interested in checking out any of my previous years posts, you can find take a look at the 2014 10 best landscape and scenic photography photos, the 2013 10 best landscape photos, or the 2012 10 best landscape and nature photos.
Now on to the good stuff…in no particular order.
1. Forever in the Night – New York City Photography
New York City is an amazing place just in and of itself. The locations are seemingly endless and the photographic opportunities are everywhere you look. One of those is the Brooklyn Bridge. This was my third trip to New York City and my first time actually crossing the Brooklyn Bridge. We decided to do this at night as I'm a huge fan of city lights, especially with a city the size of New York. This particular night happened to be September 11th and the memorial lights were shining bright. It was truly an awe-inspiring night to be here and one that I won't soon forget.
2. Narrows Glory – Landscape Photography
Living in Utah, you'd think I spend all of my time in the famous photography locations, i.e. Zion National Park, Arches National Park, etc. That would be nice. However, I was able to check one location in this great state off my bucket list, The Narrows in Zion National Park. I made the trip down there this Fall in hopes of some great Fall colors in the park. While I was still a bit early, the trip through The Narrows was one that I won't forget. This truly is a magical place that I recommend everyone try to visit at some point in time. This image was from a section that I believe is called Cottonwood Row. The early morning sunlight bounced off the towering sandstone walls and creates an amazing glow that is an amazing sight. I definitely need to get back down there more.
3. The Wait – Fine Art Panoramic Photography
The Henry's Fork River in Idaho is hands down one of my favorite locations. That doesn't really have to do with anything photography related, but more to the fact that it is a phenomenal fly fishing location. Each year I make a trip up there to fly fish these famed waters and each year now I bring along my camera. One evening while stalking a trout in the shallow waters, I turned around and noticed my brother and the evening light. So I took a quick break from the fish, grabbed my camera, and fired off a couple shots of the scene in front of me. To me it embodies the essence of fly fishing this river; grand scenery, fishing partners, and waiting for the right moment.
4. The Narrows Glow – Utah Landscape Photography
Many of my top 10 best landscape and scenic photographs of 2015 happen to have come from a recent trip to shoot Fall colors in Zion National Park. It kind of makes sense that that happened though when I look back on it. This photograph was my first one after entering The Narrows. I stopped for a second around one of the first bends in the river to just take it all in when i turned around and noticed the glowing walls of the canyon behind me. I knew I was in for a good time this morning.
5. Elowah Beauty – Oregon Waterfall Photography
While Elowah Falls in Oregon's Columbia River Gorge doesn't flow too hard during the Summer months, it still provides dramatic views to those willing to hike in to see it. I had made a previous trip to the Columbia River Gorge but was not able to make it in to this particular waterfall. I kind of regret that now as that prior trip was during the stronger Spring flows. However, this time surely did not disappoint. I can't get over how amazing this area of the world is and it's one place I'd certainly like to spend more time wandering and capturing some amazing waterfall photographs.
6. Wild Beauty – Landscape Photography
The Summer wildflower bloom in Albion Basin in Utah's Little Cottonwood Canyon is something that many Utah landscape photographers look forward to. The wildflowers go on for miles and they explode with color. It's hard not to come away with a good image this time of year, but at the same time it's hard to get something that's different. While this image isn't very different, I felt like it showcases the beauty of this area at this time of year.
7. Multnomah Bridge – Oregon Photography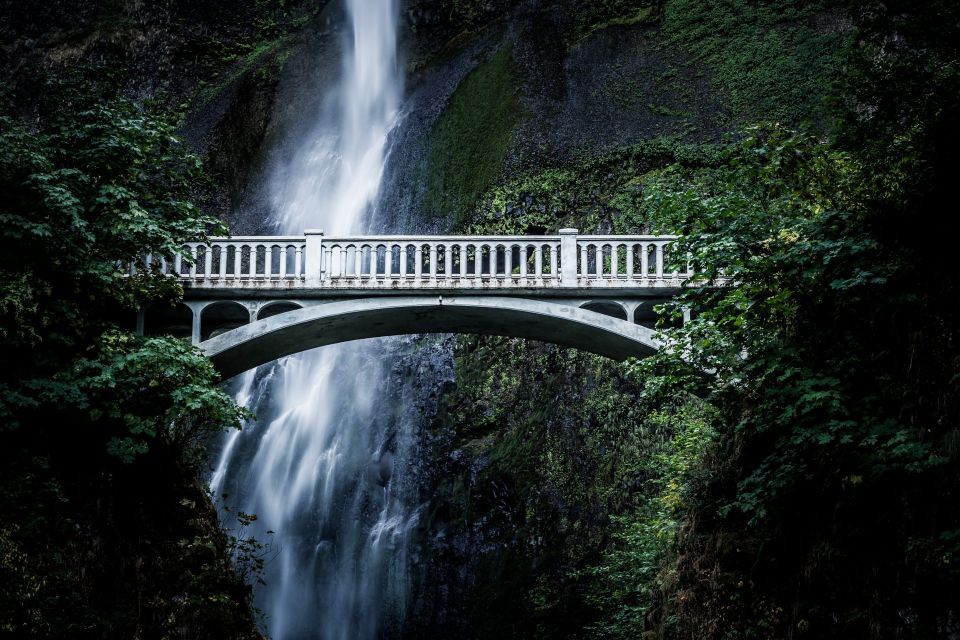 The historic bridge at Multnomah Falls in Oregon's Columbia River Gorge is a scenic stop not to miss. It happens that on a previous trip to the area, this famous bridge was under construction resulting in a stop that was very scenic but ended up with me not coming away with any photographs. This trip I made sure to make a quick stop. Many, and there are many, photographs have been taken of this popular tourist spot. That makes it hard to come away with any sort of original landscape photograph. With that in mind, I tried something a bit different on this one and I'm happy I did.
8. Pathway through the Narrows – Utah National Park Photography
The Virgin River is what makes The Narrows in Zion National Park what it is. It's hard not to feel just how powerful nature really is when walking through the river among the towering canyon walls. It's just a natural path and a very scenic one at that. My first trip through The Narrows was an amazing one that resulted in this image along with many other amazing landscape photographs of the area. Summing it all up in a few lines is a pretty hard thing to do.
9. Canyon of Gold – Utah Landscape Photography
Fall colors this year in Utah weren't the greatest. While some places did see the full splendor of Fall, many locations, and the aspen trees in particular, were affected by a fungus that killed off many of the leaves before they even had a chance. This made it rather difficult to find some good color in the mountains this year. I was finally able to find some though at the top of Little Cottonwood Canyon and boy were they a sight for sore eyes. From my vantage point in this photo, it really did seem like I was standing in a canyon of gold.
10. Kanarra Creek Glow – Utah Landscape Photography
On a recent trip to Souther Utah to photograph Fall colors in Zion National Park, I decided on a quick detour to cross another location off from my bucket list; Kanarra Creek Falls. I've seen countless photos of this location and knew I had to see it in person. After a short hike from the parking lot, I made it to the first set of falls and began to set up. At that time, a fellow landscape photographer started climbing down the makeshift ladder. He provided me with a very useful tip. That of a waterfall further up the canyon with some amazing light. I can't thank him enough as it was truly worth the extra hike up the icy water. That tip resulted in this, and many other images from the area in a location that you have to see to believe.
I hope you enjoyed the recap of this year and my 10 best landscape and scenic photos of 2015. Feel free to leave me any comments, ask any questions, or any other feedback you may have. I hope this year has been great for everyone else as well.